Haulage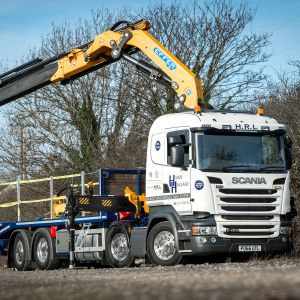 Haulage
Our haulage provision offers a valuable and cost-effective service for both rail and non-rail customers.
The basis of our service is a new Scania R Series (R450 LB 8×2*6 HSA). Its modified body includes a 40 tonne/metre Effer crane which is able to carry RRV trailers in its rail gauge running rails.
It has a purpose-built, removable rail-carrying frame that can transport 8 x 60-foot rails. The truck features a twin sleeper cab, a Euro 6 engine and Beaver tail fold flat ramps, providing plant access and all the latest industry safety systems. The wagon is equipped with twist locks for the movement and handling of containers.
Our fully compliant haulage service is available for clients in all industry sectors. In addition to our core rail provision, we work with general hauliers and lift and shift companies, container companies, utility companies, and plant and civil engineering companies – all of which benefit from our valuable expertise, experience and equipment.
Contact us
Please enter your requirements below and we will respond as soon as possible. Alternatively, call 01772 458000.