Heritage Railways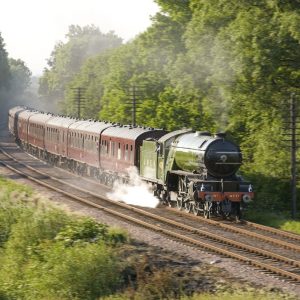 Upgrading the Heritage Railways for both Gloucestershire Warwickshire Railway and North Yorkshire Moors Railway
Employing Haigh Rail's specialist welding division
A solid working relationship between Haigh Rail and Heritage Railways
The Gloucestershire Warwickshire Railway (GWR) is a preserved steam and diesel heritage railway in the Cotswolds. The North Yorkshire Moors Railway is a heritage railway running through the North York Moors National Park, from Pickering to Whitby.
Haigh Rail has a proud association with both, and Haigh Rail's head of welding, Mick Downing, has forged strong relationships with P-Way engineers Clive Hawkins of GWR and Nigel Trotter of NYMR.
It is a pleasure to work on these fabulous railways, ensuring they are upgraded to the highest specification, whilst our welding team enjoys some of the country's most spectacular scenery.
In 2015, GWR received the Queen's award for voluntary service; and the NYMR was not to be outdone, reaching a milestone of some 280,000 visitors. Mick Downing looks forward to continuing the association with these special railways for many years to come.
Share: