Minor Works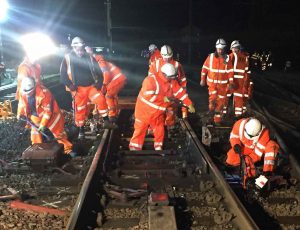 Click here for our Track Renewals & Maintenance division
Click here for our Signalling division
Haigh Rail has a dedicated minor works rail division that specialises in delivering minor P-way, civil engineering and maintenance works up to a value of £250,000, on projects throughout the UK.
We offer a fully managed lump sum, fixed price priced delivery service, providing a full turnkey labour, plant and materials solution, for mainline railway systems.
Our long-term clients include infrastructure owner and maintainer Network Rail and railway systems giant Siemens.
The minor works team also supplements our major works division in conjunction with their major plain line and S&C rail renewals projects.
We typically deliver the following minor engineering services on schemes up-to £250,000:
Minor P-way works:
Plain Line and new track installation
Hollow bearer installation
Point conversion works
IBJ installation and recovery
Sleeper replacement works
Track drainage works
Track works in conjunction with UTX (under-track crossing)
Minor Civil engineering:
Troughing and route works
LOC bases and foundation works
Retaining walls
Road and rail access point construction
Lineside fencing
UTX (under-track crossing) and URX (under-road crossing)
Contact us
Please enter your requirements below and we will respond as soon as possible. Alternatively, call 01772 458000.