Signalling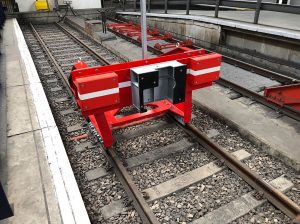 Click here for our Track Renewals & Maintenance division
Click here for our Minor Works division
Haigh Rail are able to deliver a fully managed Signalling service covering project engineering and installation across all railway signalling technologies.
As a holder of a full trackside Principal Contractors Licence, we can deliver Signalling projects as a PC, or provide a fully managed package offering to a Tier 1 Contractor.
We offer a comprehensive UK-wide railway signalling installation service which, is both flexible and cost effective for mainline, metro and light rail systems covering:
GRIP 3-4 – Constructability and engineering input
GRIP 4 – Package management for Signalling, Track and Civils, including constructability, access point strategy and surveys
GRIP 4-5 – Signalling Feasibility and Design including correlation for Signalling and OLE bonding
All types of Level Crossing improvements
UTX and URX including CRT and Track Monitoring
Track Circuit improvements
Buffer Stop works
Sand Drag removal
SMTH/G110 Supply and Design
OLE Bonding installation
All Civil Engineering works including routes, Loc bases, REB bases and raised troughing
Full REB service/equipment siting from factory to site, including temporary works, crane planning and delivery/haulage
De-vegetation of lineside trees/assets
Signage works
Signal placement and design management
Cable installation
Full recovery of all signalling assets following commissioning / stageworks including an in-house burning resource
Contact us
Please enter your requirements below and we will respond as soon as possible. Alternatively, call 01772 458000.