Welding
Our welding division was created due to exceptional demand for our services. High quality track welding is arguably the most important provision to the rail engineering industry and we offer unparalleled experience and capability from top to bottom.
We have implemented an apprenticeship scheme in order to secure the future growth of our division. We have so far recruited seven welding assistants since 2016 to start their careers with us. Each apprentice rapidly learns their welding skills, working under the supervision of our experienced technicians, whilst receiving specialist guidance from our apprentice mentors.
Mobilisation is our principal capability and we have a team of directly-employed specialists standing by to react to the requirements of rail operators 24 hours a day, seven days a week, throughout the UK. Haigh Rail Limited's in-house welding capability includes 13No Aluminothermic Welding Teams, 2No MMA Arc Welders, SO53/54 Grinding Teams and Inspectors and Supervisors. Due to our unparalleled industry experience, we are able to foresee issues before they arise. This, coupled with our ability to plan all aspects of a job, means we succeed where others may encounter problems.
Experience – our team boasts a track record that few, if any, other welding companies in the industry can match. Professional Head of Welding Mick Downing and Senior Supervisor Martin Allen have a combined 70 plus years' experience in both the national rail and light transit sectors.
Safety is our number one priority and we are proud to report an impeccable safety record.
PPE care – we employ a specialist PHS cleaning system for all work coveralls. This ensures the flame-retardant quality is retained, optimising the safety of our welding team. Additionally, all staff are provided with air fed respirators.
Technology – making use of the latest technology gives our welding operatives an important edge. For example, each member of the team has access to the Thermit welding app, bringing them the latest information as it becomes available.
Track Record – we are a trusted name in the industry, working with some of the UK's leading rail providers:
Network Rail
Balfour Beatty/TSO
Buckingham Group
Midland Metro
Manchester Metro
Amey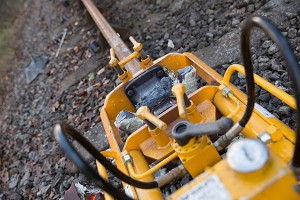 Haigh Rail's welding services are carried out by engineers and technicians certificated to all the main industry standards. All our welds are subject to full inspection, have full traceability and are recorded in our internal database. Our services include the following:
Network Rail approved manual metal arc welding capability
Network Rail approved grinding capability
Specialist groove rail welding capability for light transit projects
S053/54 weld inspectors for switch and crossing works
Aluminothermic weld inspectors
Wide gap welding on 39E1/80A now available for Light Transit Systems
All Categories' of wide gap welding L50/L68/L80 in all Rail profiles
Scrap Burning
Weld Planning
Our welding operatives always undertake a visual inspection of all completed welds, in accordance with industry standards for the joining of rails by aluminothermic welding. This prevents porosity and distortion in the weld collar, as well as a number of other potential problems. Our offering includes:
Railtech
Thermit Welding
Full Weld Inspection
Haigh Rail Ltd also offers a specialist two-process head wash repair service, including the Railtech UK process, to remove rail head defects. This allows us to undertake the following specialist remedial work for UK rail clients:
Single repairs for visible rail defects
Isolated squat defects
Internal Tache Ovale or kidney-shaped defects
Overlaid repair for wheel burns
Haigh Rail Ltd provides an effective and industry-leading head wash process that provides the end user with a cost efficient and reliable solution to defects.
Contact us
Please enter your requirements below and we will respond as soon as possible. Alternatively, call 01302 342188 or email info@haighrail.com.