Full Principal Contractors Licence awarded to Haigh Rail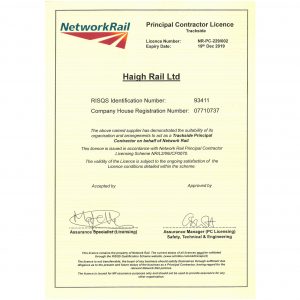 We are delighted to announce that we have been awarded a full Principal Contractors Licence (PCL) less than six months after our provisional award.
This full Principal Contractors Licence allows the company to act in its own right as a main contractor on Network Rail UK controlled infrastructure to not only manage their own works, but also other suppliers and sub-contractors works too.
After successfully passing the first stage of the two-stage PCL audit process, Network Rail were invited to Haigh Rail's project in Watford on 18th December, where the company are working on directly for Network Rail on this major re-modelling project.
Haigh Rail's scope of works include track bearer installation works and the management and delivery of lineside civil engineering works.
Following the completion of a comprehensive audit and assessment, Network Rail were completely satisfied with Haigh Rail's approach to railway assurance and deemed the company ready to undertake the management and delivery of rail works, awarding them full status.
Haigh Rail's owner and Managing Director, Chris Haigh, commented, saying: "Our business strategy is to manage and deliver more track renewals and maintenance works directly for Network Rail throughout the country. With strategically placed depots in the Midlands, the North East and the North West and works being successfully delivered from Watford in the South to Carlisle in the North, we are geared up and ready for the next phase in our growth plan.
"This is an outstanding achievement for our company and is testament to our wholehearted commitment to railway assurance. Railways are at the very core of our business and our people.
"We look forward to future collaboration with Network Rail and our industry partners to extend our core track renewals and maintenance offering into current and new rail markets, to demonstrate further how our directly employed and managed workforce are delivering track works extremely effectively."
Share: