Haigh Haulage adds to its service with new Scania grab truck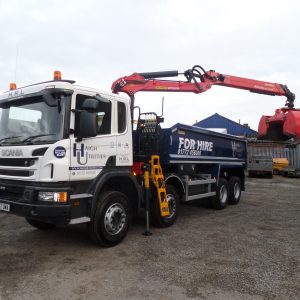 Haigh Rail's dedicated haulage division, Haigh Haulage, is now the proud owner of a new 67 plate Scania P410, eight-wheel, 32-tonne tipper grab, equipped with a Thompson tipper body and a Palfinger Epsilon M125 classic grab arm.
Haigh Haulage provides reliable and high-quality services to general hauliers and lift and shift companies, container companies, utility companies, and plant and civil engineering companies – all of which benefit from its valuable expertise, experience and equipment.
The division's new off-road truck is built for the harshest of environments, provides superb reliability and is full of features to enhance the project experience and provide clients with a fully robust haulage offering. It is a great addition to the company's existing service, which already covers a wide range of services for a variety of industries including construction, civil engineering and rail.
Chris Haigh, Managing Director added:
"In these industries where reliability is key, this tipper grab offers no compromises when it comes to quality and also provides low Euro 6 emissions, playing an important role in Haigh Haulage's wider sustainable approach to its service."
Share: