Haigh Rail Appoints Business Support Manager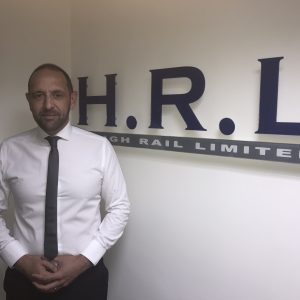 Haigh Rail is pleased to announce the appointment of Trevor Whitehead as its new Business Support Manager. The role will not only draw upon Trevor's vast experience in the areas of fleet management and plant training, it will also provide Trevor with the opportunity to support and grow the sales and development of Haigh Rail's diverse business portfolio that includes divisions in; Track Renewals and Maintenance, Welding, Civil Engineering, Vegetation Management, Haulage, Traffic Management and Training.
Whilst working closely with the divisional leaders to manage Haigh Rail's large fleet of vehicles, Trevor will also be hoping to increase awareness of each divisional offering to both existing clients and also open dialogue with new prospects.
Trevor will also be building upon Haigh Rail's NSARE accredited rail training and occupational health offering, by delivering a range of small plant training courses for external clients at a venue and a time that suits the need of each individual business. The aim is to eliminate time constraints and provide a unique and outstanding value for money service.
A delighted Chris Haigh, had this to say:
"Haigh Rail has a history of providing outstanding work to some of the biggest contractors and operators across a diverse business portfolio. With a priority to deliver all work safely, on time, on budget and to a first-class specification, our managers, engineers, supervisors and operational delivery staff are each selected for their expertise and track record in safety and delivery and the appointment of Trevor Whitehead fits this criteria very well. As a holder of a Full Railway Principal Contractor Licence along with RISQS and ISO 9001, 14001 and 18001 accreditation, we look forward to continued sustained growth and further diversification of our business operations."
Share: