Haigh Rail Apprentices Complete First Rail Engineering Block Release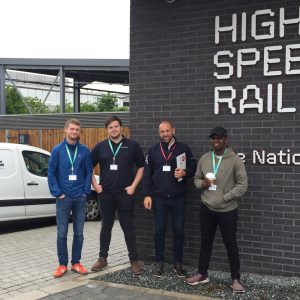 Haigh Rail, in its support for rail industry progression, is supporting three Apprentices through a bespoke Level 4 Rail Engineering Apprenticeship qualification, at the Doncaster National College for High Speed Rail.
The Level 4 Rail Engineering qualification is broken into two separate elements. These comprise of a Technical Certificate (knowledge element) and a Competence Certificate (practical element). During the competence element, the Apprentice will construct a portfolio of evidence gathered against the qualification standard requirements and an amount of classroom learning will also need to take place.
Existing Trainees, Jordan Jones and Kieran Herron, are being upskilled through this course, alongside newly appointed Apprentice David Phiri. Both Managing Director Chris Haigh and Engineering Director Dan Foster, have worked their way up the ranks via a similar approach and this process of education, is very much part of Haigh Rail's culture and its future too.
Haigh Rail's Apprentice Scheme, has received additional support from partner Siemens Mobility via their CITB levy, which Haigh Rail acknowledges its part in the company's exciting and progressive next chapter.
To this end, today witnesses the end of the first block release for the three Rail Engineering Apprentices. Trevor Whitehead, Haigh Rail's Business Support Manager, who has been working closely with the three Rail Apprentices, met them following the completion of this milestone – and was the first to congratulate them, saying:
"Feedback from both the College and our Apprentices has been very positive and Haigh Rail are very pleased with the progress that's been made"
Kieran Herron, one of the Apprentices also added:
"We've been made to feel very welcome and the interaction and support between the Haigh Rail Team and the college has been very supportive. The last two weeks has seen us taking a deeper look at the interaction between industry standards, H&S legislation and regulations within the rail industry.
"I'm really looking forward to our next block release in September."
(Pictured left to right – Jordan Jones Apprentice, Kieran Herron Apprentice, Trevor Whitehead BSM, David Phiri Apprentice)
Share: