Haigh Rail Awarded Principal Contractor Licence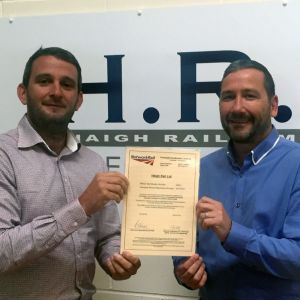 Haigh Rail is proud to announce its award of the 'Network Rail Principal Contractor Licence' (PCL), which certifies that the business is capable of carrying out duties as a Principal Contractor in accordance with Network Rail's regulations.
The new provisional licence will provide more opportunities for Haigh Rail and will allow the company to be considered for projects previously not available to us – we are excited about the increased opportunities that having a PCL will bring.
Haigh Rail is already in discussions with Network Rail to commence its first project as a PC and looks forward to the future with optimism. It is also a condition of the PCL that we will need to be reassessed on completion of a PCL project to move the provisional status of the PCL to full licence status.
Haigh Rail's Managing Director, Chris Haigh, was happy to comment on this fantastic achievement:
"I am delighted with this success for Haigh Rail, which should prove highly significant. It is testament to the dedicated work of our Health, Safety and Compliance team, headed by Production, Safety and Compliance Engineer, Ian Hughes – I can't thank you enough for your efforts.
"This will allow Haigh Rail to act as a PC in our own right and as a business I look forward to us continuing to set the standard in railway infrastructure contracting".
Share: