Haigh Rail Secures CP6 LNW North and South Permanent Way Frameworks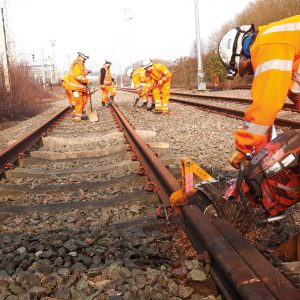 We are delighted to announce that Haigh Rail Limited has secured two new five-year CP6 contracts with Network Rail, having been selected to deliver track maintenance and renewals works between 2019 and 2024 on one of the UK's major rail routes.
The award covers rail frameworks for Permanent Way for the entire London North Western (LNW) route, which runs from London Euston in the South, through the West Midlands, the North West of England and Cumbria before joining with Scotland at Gretna. It is home to the West Coast Mainline – the busiest mixed use railway in Europe – and supports the major British cities outside of London.
The workscope comprises of specialist support to the LNW North and South Network Operations teams. This includes minor maintenance and renewals of the permanent way covering:
Re railing
Full or spot re sleepering
Re ballasting
Plain line component replacement
Full Rail, sleeper, ballast renewal
S&C component replacement
Renewal of way beams
Drainage refurbishment and renewal.
Scrap collection and line of route clearance
This is fantastic news for Haigh Rail, with the five-year contract period allowing the company to further plan and invest for the future through a greater commitment to its workforce.
Haigh Rail's Managing Director, Chris Haigh added:
"As a business, we set a target to move further South in addition to our established presence in the North and seeing that come to fruition is just brilliant. These contract wins demonstrate that we are seen as a go-to organisation for Minor Track Renewals and Maintenance for the entire LNW Region.
"These frameworks should allow us to extensively engage our existing track and welding end-to-end offering and also bring through the ranks even more talent to the rail industry, through the likes of our established apprenticeship programme.
"I am very pleased with these awards and send my thanks to our talented team, who have helped make this possible. Their continued hard work and dedication is incredible and supports our pledge to deliver first class railway engineering for all Network Rail stakeholders."
Share: