Haigh Rail's Managing Director featured in RailStaff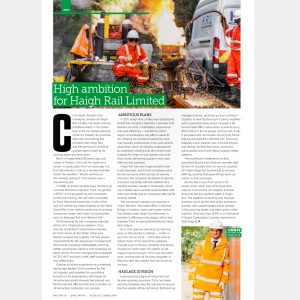 Chris Haigh, Haigh Rail Limited's founder and Managing Director, is featured in the September issue of RailStaff magazine.
The article details Chris's career path, starting as a Trainee Engineer at Carillion, before continuing with major rail companies such as Babcock Rail and Network Rail. All of this experience is what led Chris to set up Haigh Rail Limited, looking to fill a gap in the industry for a small company with a flexible and tailored service offering.
Also mentioned is Haigh Rail's impressive growth since its founding in 2011, and Chris's plans to increase its service provision in the near future. The company's recently established welding division created new business opportunities with both existing and potential clients.
Further to this, over the summer, Chris has been in the process of securing the final details of the company's forthcoming haulage division, which will increase the scope of provision even further.
A new Scania Truck has been specially adapted for Haigh Rail. Its specialist body includes a 40-tonne/metre Effer crane that will be able to carry RRV trailers in its rail gauge running rails. This has been a significant investment for the company, allowing it to serve non-rail clients, as well as its traditional client base.
You can read more about Chris and his future plans for Haigh Rail Limited in September's issue of RailStaff, available here: https://issuu.com/railmedia/docs/railstaff-september-16
Share: