Haigh Rail's Track Division Delivers P-Way Projects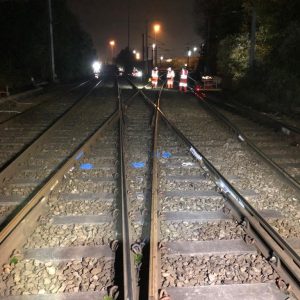 Haigh Rail's Track Division, supported by its in-house Welders, have been busy over the last few months and it shows no signs of abating either.
The in-house team has been installing Hollow Bearers and installing and recovering IBJ's in the Midlands, Yorkshire and Manchester.
The P-Way team has also been planning the conversion of a large number of Point Ends, as well as the abandonment of a number of S&C units in the North West.
Haigh Rail have a long established track renewal and maintenance delivery arm for track covering renewals, maintenance and engineering services, including a supporting welding division. The engineering team, led by Dan Foster, deliver the following services for permanent way projects:
S&C Plain Lining and New Track Installation
Hollow Bearer Installation
Plain Line Installation
Point Condition Surveys
IBJ (Insulated Block Joints) and HB Surveys (Hollow bearer)
IBJ Installation and Recovery
Stressing/Tamping/Handback Works
Track Monitoring
Share: