Haigh Resourcing completes work using its IRATA certified teams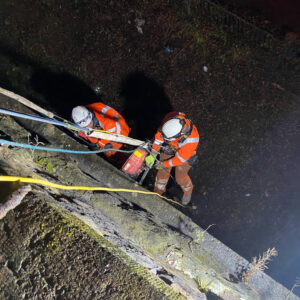 Haigh Resourcing – Haigh Rail Limited's civils and vegetation management division – has completed a rope access core drilling and vegetation clearance project using its IRATA certificated teams.
This latest site at Lower Wharf Street, included vegetation clearance of a redundant subway and 2No 75mm Cores to a depth of 3 metres. The subway itself was situated beneath track level, so Haigh Rail Limited cleared all vegetation to expose the subway shaft. Our IRATA Level 3 Operative then set up anchor points off the palisade fence, to enable our IRATA Level 1 Operatives to descend safely and set up the core drilling rig.
An endoscopy of each hole was undertaken, the core holes were then reinstated and a report provided for the TRU project, including a detailed analysis of each core sample.
Share: