Haigh Resourcing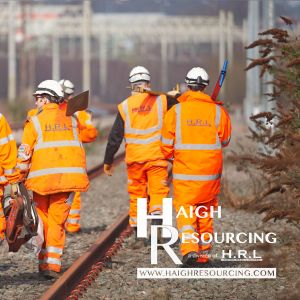 Haigh Resourcing – Haigh Rail's newest addition to its core offering – has made a strong start following its recent formation.
Under the stewardship of experienced duo Keiran Clarke and Ed Anderson, Haigh Resourcing, which supplies personnel to the building, civil engineering and rail sectors within the construction industry, has already secured a number of orders.
The team are aiming high and are looking to extend their offering across the construction industry, by supplying high-quality resources to support the UK's most important infrastructure projects.
Haigh Resourcing understands that it is not just about finding people with the right skills and experience it is also about finding people with the right attitude.
It aims for seamless long-term supply contracts with its clients, whether supplying civil engineering gangs, plant operators or railway critical staff – its resourcing motto is 'Our People, Are Your People.'
Owner and Managing Director Chris Haigh is pleased with progress and said:
"Haigh Resourcing offers our clients a flexible approach to UK construction resourcing and can be engaged in many different ways from a single resource, to a complete gang.
"This, coupled with our ability to supply both general construction and rail markets, gives Haigh Resourcing a point of difference in industries where high-quality and reliability is of paramount importance."
Share: