Haigh Traffic Management gets the green light from Achilles UVDB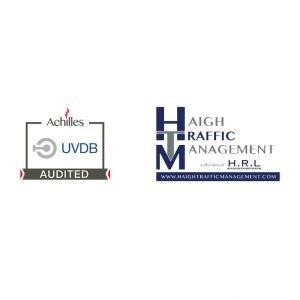 Haigh Rail is delighted to announce that it has completed its Achilles Utility Vender Data Base (UVDB) audit with flying colours. The company has qualified for its Traffic Management services – achieving a near perfect score across a number of evaluation standards, via a rigorous assessment of the company's Safety, Health, Environmental & Quality practices and procedures by Achilles Information Limited – to become a registered supplier on Verify.
For its Management System Evaluation, the company received 100% respectively for Health and Safety and Environmental and 99% and 97% for Quality and Corporate Social Responsibility elements. For the Onsite Assessment, the company received 100% across the board in all categories.
Divisional Manager Chris Hyland, was pleased with the outcome, which allows the utilities industry to procure traffic management services from the company, safe in the knowledge that its systems and onsite activities are both of a very high standard. Chris said:
"Haigh Traffic Management (Haigh TM) is a UK based specialist division that focuses on the provision of temporary traffic management in accordance with the National Highway Sector Scheme (NHSS) 12D. Our works cover TM provision on both rural and urban roads and we have the ability to provide a fully managed 12D service from project inception through to handover.
"Currently operating throughout the North West and Midlands and offering a 24/7 service, Haigh TM has a wealth of knowledge within the industry. This enables us to offer unrivalled support from the consultation and design phase, right through to works completion and project sign-off."
Share: