Trackside Principal Contractors Licence renewed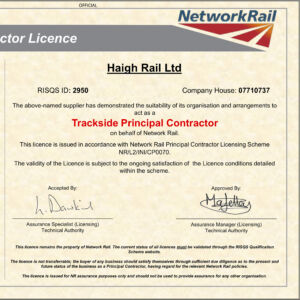 Haigh Rail Limited is pleased to announce that its Trackside Principal Contractors Licence (PCL) has been assessed and renewed by Network Rail until October 2023. This allows the company to continue to deliver in its own right as a main contractor on Network Rail UK controlled infrastructure not only managing their own works, but also other suppliers and sub-contractors works too.
Following the completion of a comprehensive audit, Network Rail were satisfied with Haigh Rail's approach to both railway assurance and the management and delivery of railway works.
Haigh Rail's Managing Director, Chris Haigh, commented, saying:
"With direct contracts with Network Rail, our strategy is to manage and deliver fully managed projects throughout the country. With strategically placed depots in the Midlands, the North East and the North West and works being successfully delivered from Watford in the South to Carlisle in the North, we are geared up and ready.
"This renewal is testament to our wholehearted commitment to rail assurance. Railways are at the very core of our business and our people.
"We look forward to future collaboration with Network Rail and our rail industry partners to extend our core permanent way, civils and vegetation management offering – demonstrating further how our directly employed and managed workforce are capable of delivering rail projects effectively."
Share: