Wigan Springs Depot Contact Award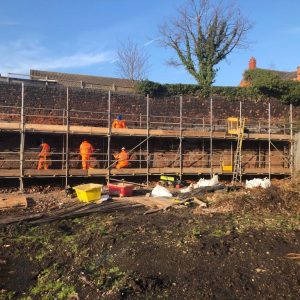 Haigh Rail has been awarded and just commenced a significant brickwork package at Wigan Springs Depot.
The company which has a Civils and Labour division led by Keiran Clarke – Haigh Resourcing – will be completing brickwork repairs to retaining walls.  Works include removing and replacing defective brickwork, opening joints and re-pointing, removing vegetation, repairing spalled brickwork, stitch and grout repairs to fractured wall sections and repairing/replacing coping stones.
The company which has depots in Crewe, Preston and Doncaster, will be using its team of specialists to complete these works and will also call upon its in-house de-veg team to advise and carry-out the appropriate works in respect of the knotweed and tree-stump removals.
The company offers a fully managed lump sum, fixed price delivery service, providing a full turnkey labour, plant and materials solution for our clients projects.
Typical fixed price projects include:
Excavation and Earthworks
Steel Reinforcement
Bridge Replacement and Repairs
Heritage Projects
Troughing Works
General Building Works
Grouting Works
Confined Spaces Works
Drilling and Grouting
Core Drilling
Reinforced Concrete Construction
Formwork
Brickwork and Masonry
Ducting
Under Track and Road Crossings
Tunnel Repairs
Mortar Repairs
Gabion Baskets
De-Vegetation Works
Share: