Todmorden Curve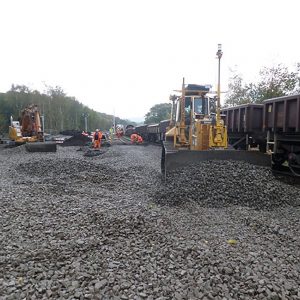 Providing vital engineering services in the construction of a new 400-metre curve
Plain-lining an existing crossover
Maintaining our immaculate safety record, with zero lost time injuries
Enabling the first direct service train for 40 years
The Todmorden Curve project – to reinstate a 400-metre stretch of rail track, which had been closed since 1972 – was completed in May 2015. Haigh Rail Ltd's services were vital in enabling the first direct service to run between East Lancashire and Manchester in more than 40 years.
We were pleased to support the main contractor, Buckingham Group, working on the planning, methodology and P-way installation on a new 400-metre curve, a crossover and a turnout. We also supplied track welding, grinding, stressing, tamping and handback services.
We were proud to deliver our services as part of this project on time, on budget and above all else – safely. Our work on Todmorden Curve allowed us to expand our current client list, building relationships and expanding our portfolio of works.
Download Case Study
Share: